There is nothing more fun then to throw a party.  A party out side on a beautiful summer day with ice cream is even better!  On Sunday we held Emma's 2nd birthday party – this years theme was Hello kitty ice cream social!
I spend my free time surfing the internet and find inspiration for things I would like to do or cook.  Thank god for my newest addiction pinterest that lets me keep it all organized.  Basically I want to throw a party that looks like the ones you can find here.
Now last year when I blogged about Emma's 1st b-day party I told you that Tori Spelling had given her daughter a lady bug party too. Well wouldn't you know Stella's b-day party this year was Hello Kitty too?  I was excited and frustrated its not like I can throw a better party then Tori!!  But I did get inspired and stole and idea or two!
We started the party off with hello kitty tattoos for everyone!  The bubble machine and ice cream bubbles on the table gave the kids some fun before we served our picnic lunch of Hamburg's, hot dogs, chicks, salads, fruit, veggies cups and chips. We had a topping bar for the burgers that included Pickles made from our garden harvest last year, this years banana pickles, lettuce from pappys garden, and more.  I even made a southwest sauce that I will post later this week.
Here is and idea I stole from Tori: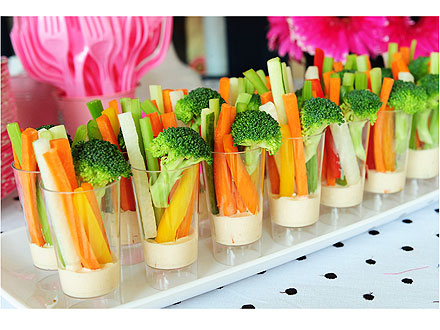 I didn't take a photo of mine so now I have also borrowed this photo! but what a great idea these are!
Emma of course was very fashionable!  She had her Hello kitty shirt from aunt Stephanie, here matching hair bow and skirt and of course her Purple farm boots (see bottom left photo below).  Later in the party she sported and animal print bathing suit with pink ruffle.  During her presents she accessorized it with a purple tutu from grandma and grandpa!  Everyone's favorite accessory was the dirty face from the ice cream (see the top left photo below)
While we cleaned up the picnic and were getting ready for the Ice cream social the kids had a blast with the kiddy pool and slip and slide!
Then it was the Ice Cream time!!! ohhh yeah!  Full ice cream toppings bar: Hot fudge, Carmel, strawberry, marshmallows, bananas, sprinkles, nuts, mini peanut butter cups, cherries, brownies and more!  We even had a tray of cookies (custom made to look like hello kitty) from J cookies.  You can find her at the Westmoreland Farmers market.  We also had root beer for anyone that wanted a root beer float!  Instead of cupcakes I made Oreo balls decorated to look like hello kitty! (photo bottom row 2nd one in from the right below).  I was going to make cake balls ( and probably should of – more to come on that later this week), but Oreos are Emma's favorite so I had to do Oreos!
The kids loved every moment of it!  Check out the photo of carter (middle top) below, I love that his mouth is open as wide as possible!  Emma smiled as we sang happy birthday to her!  Then she blew out her candle on her sundae!
As you can see the adults too were all about the ice cream!  we had just under 30 people (counting kids) and we went threw almost 2 gallons of ice cream.  Aunt Brenda was kind enough to dish out all the ice cream!  Thanks B!! She is one bad ass kitty sporting her hello kitty tattoo (Photo bottom middle) don't you think? 
After their ice cream the kids all had a sugar spike!  They were running around having a great time!
That was the perfect time to breakout the silly string!  It was a way better idea then the apple war the kids wanted!  Silly string was a mess but so worth it!  The kids loved it and So did the adults – seriously next year we need to budget for more cans! 
Here a recap of someone of my favorite things from the party!  I love my favors!  I found the idea here!  Inside was a token for an ice cream at the local ice cream shop, a small snack bag of M&M, another hello kitty tattoo and a balloon!  How cute are they?  it's a wash cloth, felt and shredded paper!
On Emma's real birthday (the 8th), I took the kids to build a Bear.  Emma made a pink Hello Kitty and tyler found a new outfit for Toby (the bear he made last mothers day).  It was a good thing Tyler was along for the ride because Emma was afraid.  Tyler had to help stuff her and bath her.  Emma named her new kitty "My Kitty"
Later that night when David was home, we let Emma open her gift from us.  It was a mud pie table.  It was a big hit…check out the bottom left photo.
What do you think was it Tori Spelling worthy?
So now to plan Tyler's 6th birthday (he wants a pirate theme), and to start thinking about Emma's 3rd bday….What? its only 360 days away!  I have already pin items!  Can you guess what the theme will be? hint hint